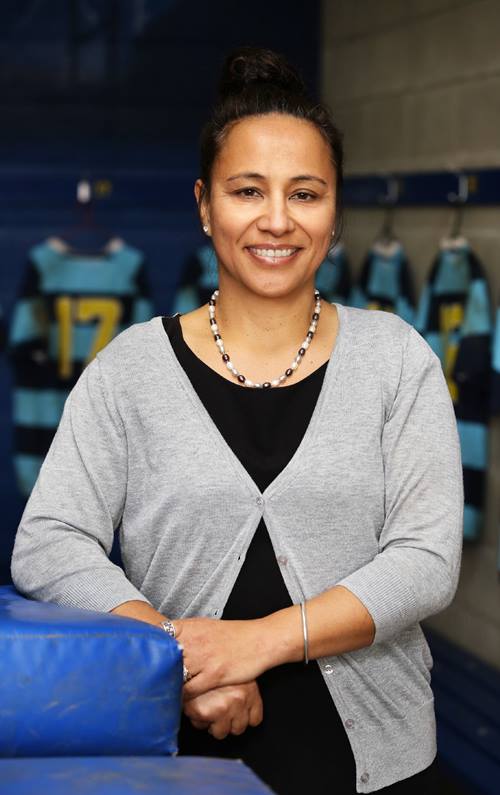 From playing and coaching Auckland's women to victory, claiming two World Cups with the Black Ferns and, last season, the Farah Palmer Cup for Counties, Davida Suasua (nee White) has played a leading role in women's rugby as JON RAWLINSON explains.
While rugby may have been born of a boy's school, in the professional era its growth is coming courtesy of women keen to make our national game their own.
Earlier this year, former Black Fern great, Farah Palmer, became the first woman to serve on the NZ Rugby Board (NZRB). Counties Manukau Heat coach, Davida Suasua (an ex teammate), believes her appointment is a step in the right direction.
"Farah advocates for women's rugby and understands the politics of the game and the importance of women's rugby," the Drury local says. "She's quite calm too; a voice of reason. It's going to be a struggle for her being in a boardroom full of men. One person can't change years of culture and tradition, so it's going to take time, but at least Farah is a starting point."
Davida believes appointments should be based purely on ability regardless of gender, and while teams may comprise either men or women, the game itself is essentially neutral.
"Some of us look at it that way but, unfortunately, when others don't see it as genderless, that's when there are issues. We've never ever wanted to 'be like the men'; we just loved playing the same game."
Asked if she would consider following in Farah's footsteps, Davida – who became principal at Tangaroa College earlier this year – is quick to assert that she's happy to serve at the grassroots. Fair enough too, as the grassroots are certainly green in Counties Manukau these days.
Earlier this year, the Heat and the Steelers (coached by Davida's husband, Darryl) claimed National Sevens' crowns. And, during last year's Farah Palmer Cup (formerly the Women's Provincial Championship – WPC) the Heat defeated reining champs, Auckland, to claim their first ever title.
Davida says developing a strong base player base over the past few years has been crucial to the Heat's success.
"We had to start again, scouring the netball courts, gyms and the like. Putting a strategic plan in place and seeing it through has been most rewarding. Seeing girls who no one else wanted take on the challenge has been really satisfying.
"Yes, we won a title and, yes, we took it off Auckland; that has its rewards, but so too does the fact that we grew our own players. For me, the priority is assisting the growth of women's rugby."
The Heat's victory is even more impressive given Auckland's dominance, winning an astonishing 15 titles from 17 tournaments. Prior to joining the Heat in 2013, Davida played her own role in Auckland's remarkable run, both as a player and a coach. Despite this, she asserts that the Heat players never questioned whether they could topple the champs.
"Never! We were confident from the beginning of the season. I knew Auckland's capabilities, because I had coached half of them previously, and I knew the capabilities of our girls and what they could achieve."
And yet, she shrugs off the 'favourites' tag for the season ahead.
"I suppose there has to be [a favourite] but that's not the Counties style. We try to keep our players well grounded; we prefer to be known as underdogs.
"We'd like to win the [Farah Palmer Cup] title again but there are challenges to overcome. We have the World Cup coming up and we'll lose some players there so we'll need to fill those spots."
One such player expected to be heading to Ireland is winger and former Northern Mystics netballer, Portia Woodman, who boasts a sidestep that would put Ginger Rogers to shame! However, her involvement will still benefit the Heat even in her absence, Davida believes.
"She's been fantastic for our team, as are all the Black Ferns who play for us. Not many can say 'I played with Portia Woodman'. Playing alongside the best really does something for team spirit and pride. They help support and encourage all the other girls."
Ferns to flourish at cup?
While former Black Fern, Davida Suasua, is hopeful New Zealand can extend its Women's Rugby World Cup record to five from eight events, she is somewhat dubious whether selection policy will help or hamper chances.
"When I was playing, the opportunity to wear a black jersey was open to everyone. These days, they select approximately 60 girls and they'll stick with that squad. I think it means that some of those who aren't in that squad are going to say 'I'm not going to play this game anymore!'"
After Davida's team, the Counties Manukau Heat, claimed the Farah Palmer Cup last year, just two – Portia Woodman and Renee Wickliffe – were selected for representative teams.
"I don't know what they're picking [based on] to be honest! I couldn't answer that question. I think [the selectors] just don't know the players well enough and make judgments based on what they think a player could be rather than what they are now," she asserts.
"I also think and they don't know how to mould their raw talent. The coaches have relied on the players Darryl [Suasua – Davida's husband] coached and his legacy; now that they've left, I believe those in charge have not done a good enough job of developing new players."
Despite this, the Heat is still rather well represented in the current Black Ferns' squad, with eight players from the Union making the cut. The tournament kicks off in Ireland on August 10.
Davida, who played at two World Cups and coached Samoa at another, says top form is essential if the Black Ferns are to reclaim their laurels.
"At the last cup [won by England], I think some fundamental errors were made, not so much by the players themselves but in terms of the game plan. While I don't think they've turned every stone over since, I hope they have [addressed such issues], for the sake of women's rugby in NZ."
Partners in Union
The surname 'Suasua' is synonymous with Counties. Since coach of the Heat, Davida, legally married her long-term partner, Darryl (coach of the Steelers) earlier this year, our province officially has two Suasua's at the helm.
The pair, who met as high school students more than 30 years ago, first worked together on-field when Darryl coached the Auckland women's squad. Davida says the key then, as it is now, is in keeping their home and work roles separate.
"We worked through it by maintaining that player-coach relationship and I think we did a pretty good job. So much so that there were many players who didn't even realise we were together until later."
Today, the couple remains united in their love of the game. Davida says, in some ways, their personal bond is conducive to an effective professional relationship.
"It makes it easier because we're on the same page in regards to player expectation and seeing talent where others may not. We both love the game, which makes it easier to work together. We don't always agree, of course, and we both can throw tantrums at times, but we definitely accept each others' opinions."
To read Rural Living's interview with Darryl, see our July-Aug 2016 e-edition.