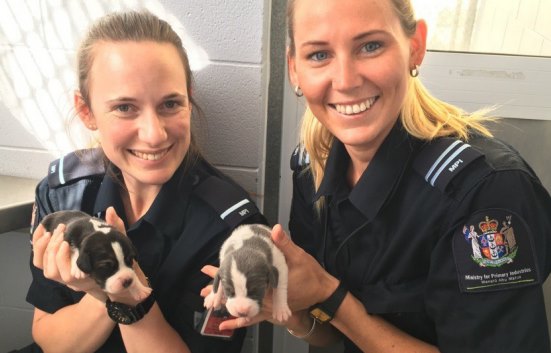 A new cross breed could make crossing borders difficult for those intent on breeching New Zealand's biosecurity rules, the Ministry for Primary Industries (MPI) expects.
The new recruits may not look terribly threatening just yet, but they are expected grow to the size of labradors, becoming the first of a new breed of sniffer dog.
Known as H-litter, the puppies are the progeny of a detector beagle, Clara, and harrier hound, Morley.
"It's the first time anyone in the world has crossed a beagle and a harrier for detection work and we have very high expectations for this super-breed," MPI Detection Technology Manager, Brett Hickman, says.
MPI has been employing beagles at airports and ports to sniff out food and plant materials which pose a biosecurity risk since 1996. Harriers, whose extra height allows easy access to sniff backpacks carried by travellers or airport baggage on trolleys, were introduced last year.
It's hoped that the new crossbreed will boast the best characteristics of both.
"The idea is to combine the height of the harrier with the proven biosecurity qualities of the beagles we have been breeding for nearly 20 years," Mr Hickman adds. "The result could be the perfect sniffing machine to keep unwanted pests out of New Zealand."