Years of working as a beauty therapist have proven to be sound training for Sadie Jooste's new role in animal welfare. Although manicures are a thing of the past she's rushed off her feet doing pedicures – on goats. ANGELA KEMP reports.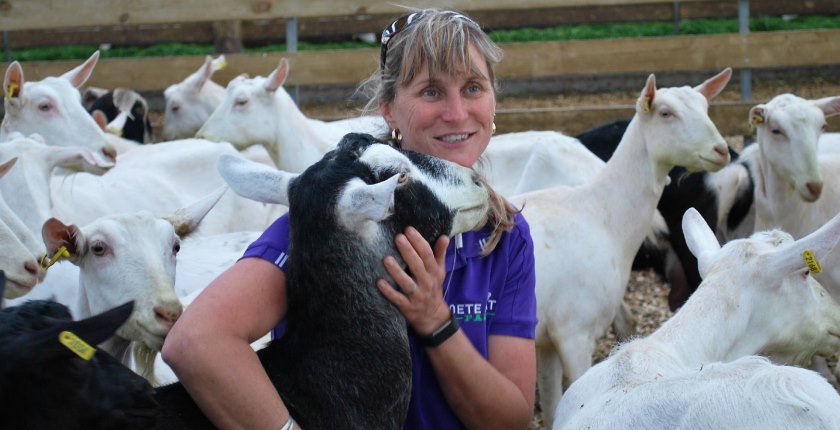 The thought of more than 2000 clients waiting to have their feet trimmed would give most people the goat but not Sadie Jooste. She loves nothing more than getting down and dirty with her herd of milking goats at Oete Farm in Patumahoe.
The Patumahoe local is in heaven when she's working among the super-clean and contented goats. They are housed in a massive, 1.3ha open-sided shed where footcare is an ongoing and important part of their welfare.
"Because they are housed inside, their hooves get less wear than they would if they were outside scrambling over rocks and stones," says Sadie. "It takes me about a week to trim them all and I love doing it."
She began volunteering at the farm soon after it opened just over two years ago but her natural empathy with the caprines saw owner Matt Bolton offer her a job.
Sadie who has always loved goats and used to keep them herself., says working with them is a dream come true and far more satisfying than being a beautician.
"They are just like people. You get some more personable than others and you get to know which ones want to talk to you and which ones want to be left alone."
Sadie is so in tune with the goats she recognises each and every one and has given names to most of them.
Pedicures aside, she is responsible for liaising with the vet if the goats have any health issues and ensuring they are kept in peak condition.
Another part of her role is to educate people about the farm and goats in general. Last year, this involved re-homing more than 200 kids to youngsters for Ag Days.
"We supplied a few the first year but it really took off last year. All the kids are vaccinated and we provide information on how to care for them as well as a voucher towards having them de-horned."
Sadie also shows groups of pre-schoolers around the farm ensuring they taste the milk, play with the babies and go for a ride on hay bales on the back of a trailer.
Matt Bolton says community involvement is an important part of his operation. "We are proud of what we do and like showing it off. We think it's really important to educate people about what we are doing and about goat farming. It's all about having happy, friendly goats."
Oete Farm has one of the largest herds of milking goats in the country. The animals are milked twice a day on a 56-bail 'gotary' – a converted dairy cow system.
The farm has 120ha of grass, which is cut and harvested back and fed to the goats. That accounts for 80% of the goats' diet, the rest being made up of other roughages and locally-sourced feeds including silage, canola, goat pellets and brewers' grain.
They manage the bedding by topping up the straw and shavings every three or four days when the goats go up to the milking shed, so it is always kept fresh and dry.
Oete supplies NIG Nutritionals, which blends the milk with vitamins and minerals at its high technology, multi-million dollar plant in Paerata where it is turned into premium infant formula.
The company had been developing its goat business over the years and had imported goat milk powder from Europe prior to the establishment of the Bolton's farm.
Matt says after running dairy, beef and sheep farms in Waiarapa for the past 16 years, he and his wife Sarah, and their three children, are enjoying living in Franklin.
"Sarah is originally from Ramarama so it has been nice for her to 'come home'. She and I like a challenge and we decided this would be a good thing to venture into."
Matt adds that farming goats has a lot of advantages over cows not least how much cleaner they are.
"I don't want to be disloyal to my cows but I do prefer goats. They are very intelligent animals to have around; they're not intimidating and I can bring my children in to play among them with no worries. They are unique, special animals."
ANGELA KEMP