Arts
Sculpture in the Gardens November 11-February 25, 8am-8pm, Auckland Botanic Gardens, 102 Hill Rd, The Gardens.  This month visitors to the Auckland
Botanic Gardens will encounter plenty of man-made beauty. With sculptures
ranging from the classical to the contemporary, this event proves that art
belongs at the heart of any garden. See sculptureinthegardens.nz.
Country Calendar
Equitana Auckland November 16-19, ASB Showgrounds, 217 Green Lane West, Greenlane.  With everything from dressage, show jumping and eventing to horsing around of other varieties, Equitana has become a well established equestrian event. And, this year, for the first time, it's jumping across the ditch to our own backyard! Showcasing the best of the best riders – including world champs and Olympians – Equitana is a trade show and sports event rolled into one. See equineonline.co.nz.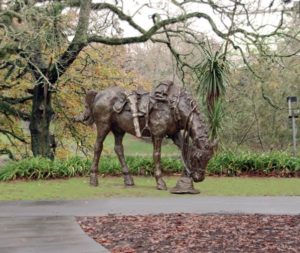 War Horse statue unveiling & The Mane Event November 11, 1-5pm, Soldiers Memorial Park, Memorial Dr & Claudelands Showgrounds, Heaphy Tce/Brooklyn Rd,Hamilton During the First World War, approximately eight million horses were killed in service of their nations. To mark Armistice Day, a statue will be unveiled in their honour at Soldiers Memorial Park. This will be followed by The Mane Event (at
Claudelands Showgrounds), a free event celebrating our four fetlocked friends. See toti.co.nz/he-tangata-project/war-horse.
Clevedon A&P Show November 18-19, Clevedon Showgrounds,107 Monument Rd, Clevedon After a year's hiatus (due to weather),the Clevedon A&P Show is expected to be right back on form, providing plenty for country kids and city sorts alike. See clevedonshow.co.nz for details.
Ready to Run Sale November 22-23, NZB Karaka Sales Complex, 10 Hinau Rd, Papakura Before they can be off and running, race horses first need to be up and selling at Karaka Sales Centre! Be there when today's two-year-olds take their first steps towards a run for future garlands. For details see nzb.co.nz.
Home & Garden
Auckland Garden DesignFest November 25-26, locations vary over two days, the Garden Design Society and Rotary Newmarket will take visitors on a tour down rarely trod garden paths to reveal the handiwork of some of New Zealand's finest landscape designers. Proceeds from this event are set to benefit charities including Ronald McDonald House and Garden to Table.  For details visit gardendesignfest.co.nz.
Music, Musicals & Theatre
Stairway to Heaven – Led Zeppelin Masters November 4, from 8pm, The Civic, corner Queen St & Wellesley St, Auckland City Some rock 'n' roll shows go down like a lead balloon; however, when this show hits The Civic this month, hits made famous by Plant and Page will rise again.   For more details, see ledzeppelinmasters.com or aucklandlive.co.nz.
Manukau Symphony Orchestra – Homeland November 25, 7.30-10pm, BNZ Theatre, Vodafone Events Centre, 770 Great South Rd, Manukau.   If home is where the heart is, it's also where the art is as the Manukau Symphony Orchestra presents Homeland.  In addition to Dvorák's glorious Cello Concerto, this concert will treat the audience to Sibelius' nostalgic 1st Symphony. More information available at manukausymphony.org.nz.
Manos del Chango starring Delaney Davidson & Nicole Izobel Garcia November 26, OSPA Theatre, 24 Hall Rd, Onewhero.  Guitar-driven blues, country and rockabilly sounds will fl ood Onewhero when self-styled wandering Kiwi minstrel, Delaney Davidson, takes the stage.  Accompanied by Nicole Izobel Garcia, Delaney will deliver live music with projected images to tell age-old stories. Visit ospa.org.nz.
Comedy & Theatre
Blackadder II November 18 – December 2, O Broadway Theatre, 41 Elliot St, Papakura.  A play so cunningly crafted you could put a tail on it and call it a weasel comes to town. After its acclaimed stage adaptation of popular TV show Blackadder Goes Forth in 2013, Papakura Theatre Company presents Blackadder II. While the renaissance may have been something that (for Baldrick) just happened to other people, we can experience a little of it thanks to PTC. See ptc.org.nz for details.
Faulty Towers & Murder at Hotel Balle  Nov 24 & 25, 7.30-10pm, Red Shed Palazzo, 64 Jesmond Rd, Karaka/Drury.  Twice the comedy is on over again this month at the Red Shed. For details of this month's shows (and more to come) see redshedpalazzo.co.nz/dinner-theatre.
Fundraisers
1920s Dinner & Auction November 4, 7-11pm, RSA Franklin, 17 Edinburgh St, Pukekohe.  Where were you when the 1920s roared? Because all of us (well, almost all!) missed out on the fun when the world swung, Franklin Hospice is bringing back the twenties in fine style during this fabulous fundraiser. For more information see franklinhospice.org.nz.
Family Fun
Pukekohe Cardboard Car Rally November 3, 4.30-6.30pm, Pukekohe Town Square, King St, Pukekohe.  Greg Murphy may have claimed many a motorsport crown in his time but he'll only be able to look on in awe during this event. As the Auckland SuperSprint gears up (Nov 3-5, Pukekohe Park Raceway) youngsters will display their cardboard car creations. Details accessible via facebook.com/PukekoheCardboardCarRally.
Waiuku Blast to the Past November 11, from 6pm, Rugby Park, 34 King St, Waiuku From live entertainment to markets and (of course) plenty of things exploding, Blast to the Past offers plenty of bang for your buck! See waiukutown.co.nz/calendar.
Day Out With Thomas November 11-12, 9.30am-4pm, Glenbrook Vintage Railway, Glenbrook Station Rd, Glenbrook.  Riding the rails on a genuine steam
engine should be more than enough to ensure little ones enjoy a fun day out. However, throw in a certain loco named Thomas and they're bound to go crazy with excitement! From face painting, storytelling and a bouncy castle, to various Thomas-themed activities, this event offers plenty to choo choo our way through. For more information (including train departure times) see gvr.co.nz.
The Great Auckland Duck Race & Tuakau Kindergarten Duck Race November 12, 9am-12pm, Vector Wero Whitewater Park, 770 Great South Rd, Manukau City, AND November 19, 11am-3pm, Les Batkin Reserve, River Rd, Tuakau.  A little duck will do you but big birds can win too! During these absolutely quackers races, it's lucky ducks that float best and finish first. See thegreataucklandduckrace. org.nz and tuakauduckrace.nz for details.
Sport, Racing & Motoring
Auckland SuperSprint November 3-5, Pukekohe Park Raceway, 222-250 Manukau Rd, Pukekohe.  When some of the world's finest peddlers come to Pukekohe, these magnifi cent men in their driving machines are sure to be frightfully keen to steal the scene. Featuring two 200km races over two days, round 13 of the Virgin Australia Supercars Championship should provide plenty of thrills. Visit supercars.com/auckland.
Melbourne Cup Day at Ellerslie November 7, 11am-9pm, Ellerslie Racecourse, 80 Ascot Ave, Remuera.  While the epicentre of the party known as the Melbourne Cup might be more than 2500km away from Auckland, that doesn't mean we can't join in the revelry and rivalry of the world's premier sporting events. In addition to racing on track and (for the big one) on super-sized screens, this event also features plenty for fashionistas too. For details see ellerslie.co.nz/melbourne-cup-day.
Ardmore Open Day November 12, 10am-4pm, NZ Warbirds, Harvard Lane, Ardmore Airport Some event organisers 'wing it', which isn't usually a good thing. However, when the fl y boys (and girls) at NZ Warbirds wing it, we know we're in for a jolly good show! From fabulous aerial demonstrations to static displays and more, expect high fl ying fun for the whole family. More information via ardmoreairport.co.nz.
Counties Cup Day November 25, 11am-6pm, Pukekohe Park, 222-250 Manukau Rd, Pukekohe From fashion and entertainment to big horses thundering around the track in e orts to claim more than $450,000 in stakes, Counties Cup Day has much to o er. See pukekohepark.co.nz.