They say if you want something done, ask a busy woman and Ardmore farmer, Ginni Alexander is certainly testimony to that. Now the former nurse, cattle breeder and preserve-maker is set to be busier than ever as the taste for her chutney continues to grow. She talks to ANGELA KEMP.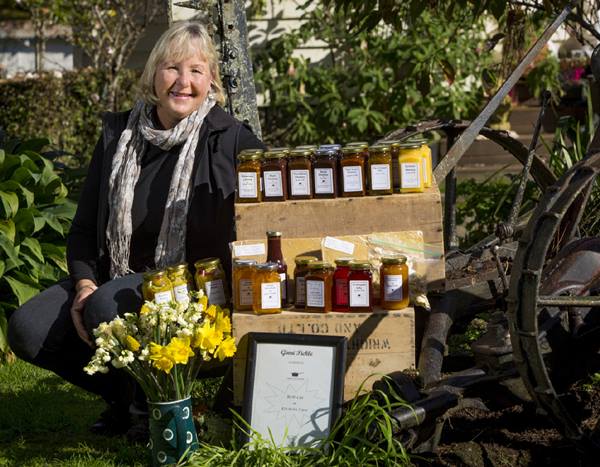 Ginni Alexander started making jams and chutney "years ago" with the excess fruit she grew on the family farm. Not that she had a lot of time on her hands – she was also working as a nurse in Middlemore Hospital's plastic surgical unit, bringing up a family and building up an award-winning herd of Highland Cattle, Ardargie Fold.
Soon she was making more jams and pickles than she could give away so she decided to sell it at work and set up a little stand on the ward.
"People came from all over the hospital with jars and to buy. I soon learnt what they did and didn't like so it was a good testing ground.
I did that for 10 years until retiring two years ago. I made marmalade, lemon honey, plum sauce, plum jam, peach chutney and pear and date chutney but my best seller was Maharajah chutney which flew our the door.
"It's made to a recipe given to me by a patient and uses oranges, onions and a mountain of Indian spices – and that's as much as I'm going to tell you! The gentleman who gave me the recipe is in a wheelchair now and unable to make it for himself so I keep him supplied."
After leaving work Ginni had a stall at the Farmers' Market at Takanini before it closed. She is now a regular at the Sunday market at The Red Shed Cafe at Drury. Fellow stallholders, Del Boy Sausages of Howick asked Ginni if she could supply them with her Maharajah chutney to create a very special sausage.
The resulting beef Maharajah sausages are a sizzling success. "They're not a breakfast sausage, more of a lunch or dinner sausage, and absolutely delicious."
Ginni could technically supply Del Boy's with the meat too but she said practicalities made it uneconomical. She's been breeding Highland Cattle for 21 years and currently has a 65-strong herd, or fold as the breed is known.
She decided to rear the ancient breed after seeing them on a trip to Scotland.
"They're bred for beef but where they came from originally they would have been used for their milk and their meat. Their hides would have been used for floor or bed coverings, whatever they needed.
"They are the only breed of cattle that are allowed to overwinter outside in cold climates such as Scandinavia because of their thick hide and hair. They need their horns to be able to dig in the snow for food in the wintertime."
Ginni says the breed produces lean, well-marbled, flesh that ensures tenderness and succulence with a very distinctive flavour. "Venison is very lean, but can be a little bit tasteless. Highland beef has a very subtle taste."
Depending on whether they are destined for the table or her breeding programme, some of Ginni's Highlands have horns, others don't. She says the not unsubstantial horns don't pose a risk if the breed is handled correctly.
"They don't use their horns on you unless you have them cornered and they are so terrified that they have nowhere to go. Only then they might bow their head and take a toss at you.
"The size of the horns allows them to organise the pecking order in the herd although that isn't always the case. They are all so different, some are nice, some are nasty, some are bossy and some are just so gentle."
Ginni is a member of the Highland Cattle Society and says the breed was 'flavour of the month' about 18 years ago when there weren't many around and everybody wanted them.
But she adds they always going to a minority breed as they are a small block animal not popular with commercial farmers. "They are a little bit slower to finish and they don't have very good feet. They're better than they used to be and they've survived like that for a thousand years in a very harsh part of the world."
Ginni supplies animals to people for all kinds of reasons – as pets, beef or as a start to breeding programmes. She took five petting calves to Fieldays in June and says children were delighted they could stroke the wee hairy beasts.
But now she's concentrating on building up her condiment business which goes under the name of Ginni Pickle. Recently she began supplying a store on Auckland's north shore where the townies can't get enough of her country delights – especially that Maharajah chutney!
Highland Cattle are Scottish royalty
One of the oldest, most distinctive and best known breeds, Highland cattle have a long and distinguished ancestry dating back as early as the 1200s.
Their long, thick, flowing coats of rich hair and their majestic sweeping horns, make Highlands one of the most recognisible breeds. They are known for their longevity – many Highland cows continue to breed to ages in excess of 18 years having borne 15 calves.
A group of Highland cattle is known as a 'fold'. This is because in winter the cattle were kept in open shelters made of stone called folds to protect them from the weather at night.
Queen Elizabeth 11 and the royal family maintain a purebred fold of Highland Cattle at Balmoral Castle. It is said that when the family travels, they often send their own meat ahead of them, as they believe it is the healthiest of meats.
Highland beef is attributed as being healthy and nutritious with lower levels of fat and cholesterol and a higher protein and iron content than other beef.