With two degrees in hand – law and business management – Melanie O'Halloran's interest in interior design was tugging her in a new direction. But busy with three children and a home-based in Alfriston business she was reluctant to tackle a third degree.
Then she heard about the Nanette Cameron School of Interior Design at Te Tuhi Centre for the Arts. She told HELEN PERRY it proved to be a life-changer.
Melanie O'Halloran's eye for detail, her sense of style and a nose for bargains that look like they cost a lot more than a few dollars look set to make her a very clever interior designer – not to mention her latent talent developed when she undertook a Nanette Cameron interior design course.
"I'd long intended to study interior design and when we moved here [a hidden 1.3 hectare lifestyle property on a private Alfriston estate] I thought, this it, I'm going to do it. The options were the Unitec degree course, online study or the two-year Nanette Cameron course with a third optional year.
"The time factor for Unitec proved impractical and I didn't want to do online because I felt it was important to interact with other people and talk through ideas. Nanette's course was so well respected and it was also part time. With three children I needed to work around the family so I went for it and loved it. The course was fun, interesting and challenging."
Timing for her qualification couldn't have been better. Melanie and husband Tim bought their little bit of country in the city four years ago and included were former stables, a condition of the early subdivision clauses which required the eight estate properties to be economically viable.
"Originally part of the Alfriston Stud, when the land was split up each property included a requirement to have stables, a mare and a couple of other horses. Over time, conditions changed and most owners dispensed with the horses and took up other forms of income. We grow chestnuts – mostly cared for by WWOOFers (willing workers on organics farms) – and we have a strong pick-yourown season throughout most of April."
With the stables redundant as a home for horses, Melanie and Tim saw other possibilities – a venue where friends and family could gather for special events and which could also double as an Air B&B or as personal guest accommodation.
With the design course under her belt, Melanie set her creative side to work redesigning the 40 square metre space into a luxurious studio unit with en suite.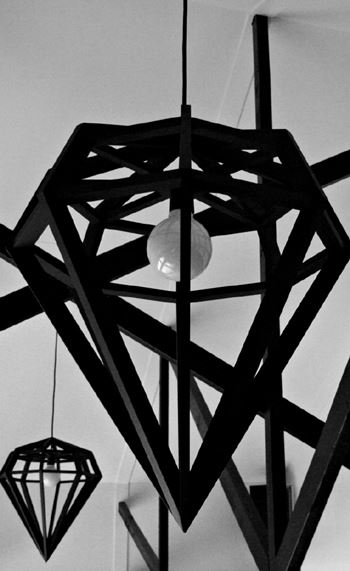 With a black and grey impact on the colour scheme she has created a robust, industrial loft look with strong emphasis on colour and pattern evident in the en suite's walk in shower – a geometric splashback in shades of orange, black, grey, mustard and brown, making up one wall!
What is particularly impressive is Melanie's innovative use of accessories, the result of astute buying and recycling.
"I did a lot of shopping at K Mart for smaller items which didn't cost a lot but look terrific – whoever is doing their home wares buying is doing a stellar job. I've also picked up other gems from the likes of Bed, Bath and Beyond."
And, indeed, even an experienced eye might find it hard to discern the difference between Melanie's shrewd purchases and much more expensive items.
However, it is in the kitchen that she has achieved dramatic impact with a polished timber breakfast bar – the rimu slab handselected and fibreglass coated at Weka Wood in Kingseat – plus a magnificent recycled fire surround, painted black and mounted on the bench top to frame the black-mirrored splashback then accentuated by brass firedogs.
On closer look, the dark grey 'concrete' bench tops are, in fact, laminate not that you'd know from a distance. Distinctive, diamond-shaped, black wood pendants lights hang from the high ceiling, their pattern duplicated in bracing Melanie designed for the breakfast bar.
Beautifully appointed, the marvel of the greater space is that the queen size bed can fold away leaving a generous party venue if so desired. And, it all opens to a north-facing, outdoor entertainment area.
"I've had a lot of pleasure, and fun bringing this together," admits Melanie but says she has a bigger job ahead when she tackles the family home.
Although she has already re-designed the master bedroom, she may well be pushed for time when it comes to devoting her energies to other rooms.
Not only has Melanie become a colour ambassador for Dulux Paints – "and I'm loving it" – she has also set up her own design business, Uptown Jane Interiors, loosely based on turning a 'plain Jane' house into an 'uptown girl – "or, at least that's the thought behind it," she laughs.
With no thought of returning to law, Melanie says she's just thrilled to be finally working in a domain that has attracted her for such a long time.
"And, really, it's all thanks to the Nanette Cameron School of Interior Design in Pauranga. I learnt such a lot and I intend to do the third optional year at intervals to keep up with changing trends and ideas. Really, I wouldn't hesitate to recommend this training to anyone with an interest and flair for re-inventing spaces. It really has put me on a new career pathway."
School encourages grand designs!
The Nanette Cameron School of Interior Design is an institution in east Auckland but more than that, the school, based at Te Tuhi Arts Centre in Pakuranga, is highly respected throughout the country.
From its beginnings in 1967, it has become a leading design education facility, instilling an understanding and appreciation of design in thousands of students.
Offering cutting edge courses that respond to contemporary practice the aim is to produce forward thinking designers who will shape the future of the industry in New Zealand.
Providing students with the skills, knowledge and confidence to create beautiful, personal and satisfying home environments, classes are taught by designers/teachers who are professionals practising in the field.
The course is suited to students keen to renovate their own homes or who are building new as well as to those seeking entry level positions in design practices, or a foundation for further study.
It consists of eight core modules, designed to be studied part time over two years at Te Tuhi. Each module runs over nine weeks, with one 2.5 hour class per week, and include topics such as bedrooms and bathrooms, the art of lighting, the creative kitchen and the history of design and furniture.
A range of private home and industry visits with a design focus are available to students participating in any of the core modules. On completion, students are eligible to enrol in a further year of professional development with a predominantly 'out in the field' approach.
For enrolment enquiries and more information contact info@tetuhi.org.nz, phone 09 577 0138 or visit ncsid.co.nz