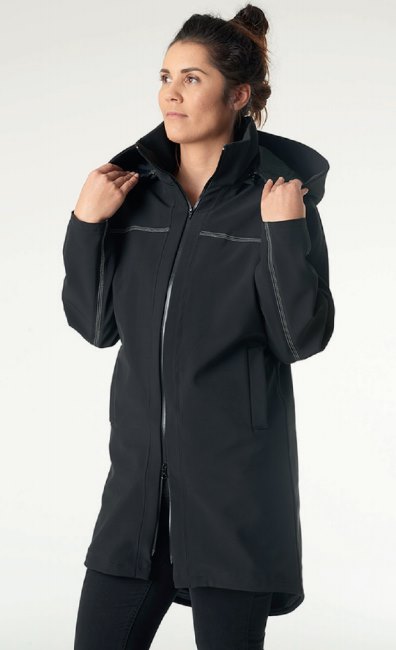 The hardy oilskin and iconic Swanndri have long been associated with practical farm attire but a fresh approach to farm apparel has won Bachelor of Design (fashion) student Kimberly Waihou a gold award at the recent New Zealand Best Design awards.
Recognising that the new breed of farmer is equally conversant with bank managers as they are with farm hands; equally proficient on a smart phone as they are on a farm bike,
Kimberly saw a need for clothing to meet both the functional requirements of the contemporary farm whilst also reflecting "current day cool."
"The 21st century farm is a professional environment with scientific, technological, commercial and lifestyle shifts," says the AUT student. "[My] Waihou jacket responds to this need, using human-centred design to blend urban streetwear aesthetics with high-tech fabrication and functional integrity.
Constructed from a 3-layer bonded, 5000mm weatherproof rated Hydrotex, the jacket is showerproof and windproof.
The two-way stretch, soft-shell fabrication has a 3000gm breathability rating and can withstand light snowfall while an Aquaseal zip and seam-sealing technology provide additional protection from the elements.
Kimberly says the Waihou jacket is non gender-specific, with a broad shoulder and tapered silhouette to assist rain run-off.
"The hemline dips at the back to provide seat protection from dew-laden farm bikes, and the two-way zip allows the wearer to straddle a bike or fence with ease, without the need for opening the torso section," she says.
"When fully zipped, the collar extends above the mouth, and coupled with the fully extended hood, provides weather protection to the face.
The brim can be turned back to give the wearer optimal peripheral vision, and in moderate weather the entire hood is detachable."
UV protection has also been considered with a detachable inner lining containing sunglass pockets and elasticised chapstick/lipstick carriers.
Kimberly says when business meetings are conducted on the farm, paperwork and smart devices can be contained in purpose-built pouches with the phone cleverly resting against the wearer's forearm for easy ergonomic use.
Head of the Department of Fashion at AUT, Yvonne Chan, says with no fashion category at the awards, Kimberly entered the product design section and impressed the judges so much she won the top prize for that category – the gold award.
"We are immensely proud of her win. Kimberly 's take on a Kiwi classic helps disputes the idea that fashion is all about the runway and glossy mags. Her jacket is innovative and high tech and perfect for her target audience"